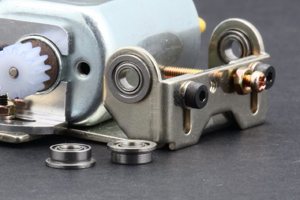 PYC bearing is a specialized manufacturer of slot bearing,slot bearings,slot ball bearing,slot ball bearings,slot car bearing,slot car bearings,slot car ball bearings,slot car ball bearing.
Features :
Shield / Closure: Open,Teflon Sealed,Rubber Seals,2 Metal Shield
Tolerance codes: ABEC-3, ABEC-3, ABEC-5, ABEC-7,ABEC-9
Material: AISI52100(Chrome Steel), AISI440C(Stainless Steel),Ceramic(Si3n4 or Zro2)
Stainless Steel Flanged Ball Bearings with Ceramic Balls ABEC-7 quality, this is a popular size that be used in Slot Car Axle and many application. Bearings are made of Stainless Steel, each bearing has 2 metal shields to protect the bearing from dust or any possible contamination, Ceramic Balls are the highest standard of balls that can make your bearings live at least 5 times more than any other bearings, with ABEC-7 quality, nothing could be better !
Product Tables
Inch Series - Radial
Open:
Unflanged Bore sizes 0.0400 to 0.3125 inches

Shielded:
Unflanged Bore sizes 0.0400 to 0.3125 inches
Flanged Bore sizes 0.0937 to 0.5000 inches

Metric Series - Radial
Open:
Unflanged Bore sizes: 1mm to 9mm

Shielded:
Unflanged Bore sizes 1mm to 9mm
Flanged Bore sizes 2mm to 12mm