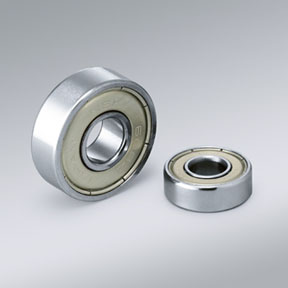 PYC bearing is a specialized manufacturer of various instrument bearing,instrument bearings,instrument ball bearings,instrument ball bearing.
The inch series miniature bearings are single row ball bearings available from .0400 through .7500 inch bore sizes. The construction of these bearings enable them to carry moderate radial and thrust loads at low operating torque while providing high performance within a small envelope design. Miniature and instrument bearings are available in stainless steel for those applications requiring corrosion resistance and chrome for maximum fatigue life.
Our miniature and instrument bearings of both the metric and inch configurations meet the tolerances of ABMA Standard 20 for ABEC 1 metric series bearings. Stainless steel or chrome steel bearings are available with crown or ribbon type metallic cages. Open or shielded bearings may be flanged or unflanged. Various types of seals may be specified depending upon the anticipated environment to which the bearings will be exposed.
Design Attributes
* Extended inner rings and flanged outer rings to facilitate mounting.
* Shields and seals for contamination protection.
* Radial play and contact angle variations to suit application loading and deflection requirements
* Various ball retainer styles and materials for optimum bearing performance.
* Factory lubrication from a stock of several hundred lubricants.
* Tolerance levels to exact application requirements
* Ring and ball selection choices include AISI 440C stainless steel, SAE 52100 chrome steel, beryllium copper and ceramics.
* Performance testing for noise and friction torque specifications available.
Applications
* Dental, medical and industrial handpieces
* Flow meters
* Fuel controls
* Gyros, synchros and servos
* Motors
* Cyrogenic coolers
* Pulmonary assist devices
Product Tables
Inch Series - Radial
Open:
Unflanged Bore sizes 0.0400 to 0.3125 inches

Shielded:
Unflanged Bore sizes 0.0400 to 0.3125 inches
Flanged Bore sizes 0.0937 to 0.5000 inches

Metric Series - Radial
Open:
Unflanged Bore sizes: 1mm to 9mm

Shielded:
Unflanged Bore sizes 1mm to 9mm
Flanged Bore sizes 2mm to 12mm

Full Ball Complement - Unflanged & Flanged
Extended Inner Ring - Unflanged & Flanged
Modified Dimension - Unflanged & Flanged
In addition, you can see the Bearings Tables of our other products here.