Skateboard Bearings >
skating bearings
---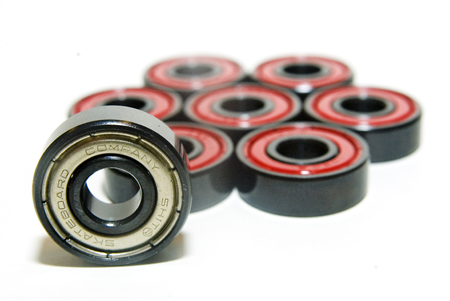 PYC Bearings specialized production speed bearings,skating bearings,skateboard berrings, mainly has two models: 688zz (8x16x5) and 608zz (8x22x7),698zz(8x19x6).
ABEC 9,ABEC7,ABEC5 Advanced Speed bearings use exclusive technologies and are manufactured to strict tolerances, making an ultra fast, quiet, smooth spinning bearing with lasting precision. Perfect choice for high speed.
You probably didn't know the 16-pk PYC bearings feature heat-treated and honed-steel raceways with exact geometries. What you should know about is the long-lasting performance that you'll get from using PYC bearings. PYC technology has kept skaters rollin' smoother and longer with precision technology.
* Heat treated non-contact shield.
* Inner and outer races are GCR15.
* Removable steel C-ring.
* Raceways heat treated and honed for maximum speed.
* Balls are heat treated and honed to HRC 62-67.
HIGH QUALITY BEARING THAT SATISFY SKATERS OF ALL LEVELS AND STYLES.
* ABEC 9: Heat treated double shielded with removable C-ring for easy maintenance.
* ABEC 7: Best combination of tight tolerances and quality single shield.
* ABEC 5: Double stainless steel shields to resist contamination.
* ABEC 3: Double stainless steel shields for all skating styles.
related navigation:
skateboard wheel bearings
skateboarding bearings
longboard bearings
skate bearings
rollerblade bearings
608zz bearings