Miniature Bearings >
bearings
---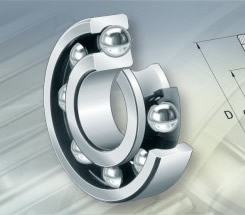 PYC Bearings offers an extensive selection of small motor bearings and small flange bearing.In addition to the standard inch and metric series we offer a full range of specialty bearings from a modified dimension to bearings that reach speeds up to 450,000 RPM.
Small motor bearings designed and available to handle
radial, thrust and combined loads in proportion to the capacity requirements of the small shafts for which they are designed. They are commonly used in fractional horsepower motors, domestic appliances, precision instruments, tape recorders and similar devices. Miniature bearings include all of the various combinations of shields and seals available in larger series bearings.

Small flange bearing are available in low and standard bearing quality, chromium-alloy, high carbon steel and stainless steel.
Catalog :

related navigation:
Miniature Bearings Miniature Thrust Bearings Miniature Ball Bearings Miniature Needle Bearings Miniature Roller Bearings Miniature Angular Contact Bearings Miniature Rod End Bearings micro miniature bearings

Copyright 2000-2012 PYC BEARING CO.,LTD. Links