Ceramic Bearings >
bearings
---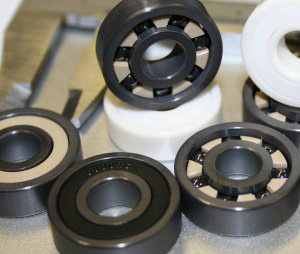 Pyc fitness is a specialized manufacturer of ceramics bearings in china,we manufacture ceramics bearings,angular contact ceramic bearing,ceramic bearing manufacturer,ceramics bearing,ceramic thrust bearings,ceramic plain bearing,ceramic needle bearings,silicon nitride ceramic bearings and more ceramics bearings.
Ceramics bearings are typically constructed with a ferrous inner and outer ring or race with ceramic balls in the place of steel. Ceramic bearings offer many advantages over all steel bearings, such as higher speed and acceleration capability, increased stiffness, lower friction and more. Ceramic balls are also nonconductive. Ceramic bearings are available in all standard industry configurations such as, angular bearings, thrust bearing, pillow block bearing, needle bearings, and roller bearings.
Applications :
auto manufacture,driving equipments and engine industrial,chemistry industrial,medical industrial and food processing equipments industrial and so on.
Catalog :
Ceramic Ball Bearings:
Open type (Metric series )
Open type (Inch series)
With rubber seals/steel shields type(Metric series )
With rubber seals/steel shields type(Inch series)
With snap ring/snap ring groove
Flange ball bearings(Metric series)
Flange ball bearings £ížInch series)

Ceramic self-Aligning ball bearings:
Open type
Sealed Type

ceramic single row angular contact ball bearings:
Single row angular contact ball bearings

Ceramic thrust bearings:
Miniature Thrust Ball Bearings
Single direction thrust ball bearings
Double direction thrust ball bearings
related navigation:
Ceramic Bearings
Ceramic Ball Bearing
Ceramic Bicycle Bearings
Ceramic Wheel Bearings
Ceramic Skateboard Bearings
Full Ceramic Bearings
Ceramic Hybrid Bearings