Bearing >
applications
---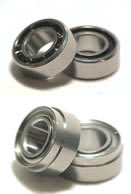 PYC bearings are widely applied to fields such as micro motors, telecommunication equipment, instruments and meters, computers, automobile motors, precise instruments, mechanical equipment, household appliances, medical appliances, fishing gears and remote-operated toys etc.

Bearings for electric tools: Electric tools require bearings having features as long as lifespan, non-lubricating and less heat produced. PYC Bearing has many years of cooperation with electric tool manufacturers. Our high-quality bearings can replace importing ones and have advantages of long lifespan and low noise. We are able to supply your satisfied products.

Bearings for household appliances: Household electric appliances request bearings to have longer lifespan, high loaded process and high speed running. PYC Bearings are able to meet the operating requirements in household appliances (laundry machines, refrigerators, driers and dishwashers), small size electrical devices, ceiling fans, vacuum cleaners and exhaust fans.

Bearings for food machines: Food processing industry must manage to cope with environment such as extreme temperatures, moisture-laden air and periodical washes, which even rarely appear in industrial environment. PYC Bearings can be suitable to rugged environment such as frequent rotation, contamination and temperature variation, so that to meet the requirement of food and beverage industry.

Skateboard bearings: Skateboard bearings need strong durability, full protection and less friction. Engineers of PYC Bearings work out bearings that can meet stern requirement caused by these skateboards. Skateboard bearings made by PYC Bearings have the following features:
1. Production line ranges from ABEC-1 to ABEC-7.
2. Various colors of sealing can be chosen.
3. Both steel balls and ceramic balls are available.

RC bearings: We have many years of experience in providing bearings for remote controlled model factories, not only four-wheel driven cars, but also models of helicopter. We know well the specific requirement of them. Among our customers, not only many famous manufacturers of RC models, also significant sports teams of RC models. We believe, to a certain extent, their success results in the close cooperation with professional manufacturer of bearings.

Bearings for micro motors: Bearings used for motors need to support relatively large radial load and high-speed rotation. When precision bearings produced by PYC Bearings are applied to motors, gear cases and gear assemblies, they have stability, low noise and long lifespan.

Dental bearing: The dental bearings we make can reach the maximum 450000RPM.and there are many types for choice. Our dental bearings enjoy a good reputation in international market.
related navigation: